As a publicist, I sometimes receive requests for advice or assistance from self-published authors. I have a great deal of admiration for anyone with the resolve to complete a novel, and to take on the enormous burden of publishing and promoting it themselves. I know that it's hard to promote any book, nonetheless a self-published one, and that in many ways the cards are stacked against these authors from the start, so I always try to share a little bit of advice in the hope that I can make their job just a little bit easier.
I've reprinted this advice below, but please don't treat it like words received from on high. Feel free to disagree, or add to the discussion via the comments button. I look forward to hearing from you.
Promoting a self-published title is a challenge. Here are the two major reasons why this is so:
(1) Although self-publishing and POD publishing don't carry as much of a stigma as it used to, a certain amount of prejudice still exists among otherwise reasonable reviewers–especially among the traditional press. Many of them feel that anything self-published only became that way because it wasn't good enough to get published by a regular publishing house, and for that reason, won't review anything self-published.
(2) Self-published titles normally don't come with any means of mass distribution. In essence, should a reader be influenced by a review in a newspaper or other periodical, she or he won't be able to normally find a copy of the book on the shelf at their local Borders or Barnes & Noble.
Naturally, just because critics feel this way, that doesn't mean that it's true. As the internet continues to grow and the means of production shifts to creators, most of these old-guard prejudices will probably start to fade. That being the case, you've still got to deal with the situation as it is right now.
Here's what I'd advise: Spend an afternoon on Google researching likely friendly venues for your book and the names of reviewers associated with them. From there, develop a list of maybe twenty potential contacts and email them directly. Offer them a copy of the book for review, an opportunity for an interview and maybe even offer to write a guest post on the book or a related topic later if they're interested.
Now, who is going to review the book? I'd start with small to medium sized book bloggers. Slowly build up word of mouth, and keep a sheet of choice excerpts from the best reviews. Once you have these, use them to approach the larger websites. They're far more likely to read your book if others have read it and enjoyed it. Yeah, I know, weird, huh? From there, you might be able to move up to magazine and newspaper guys and gals, but most of them want to have the book about 4 months in advance of publication.
You're going to have to do this as a "grass roots" style campaign, and build up word of mouth slowly and deliberately. You'll need to get yourself out there, talk to the fans and genre gatekeepers themselves. You've going to need to start a website to increase your aura of legitimacy. Finally, get on Twitter and Facebook and really talk to people in your core audience. Indirectly promote your personal "brand" that way. Don't make the mistake of spamming people with impersonal, sales-oriented messages.
Ultimately, you're going to have to bring your message directly to the people, and build your audience person-by-person. This can be your best hope of beating the odds and having a successful book.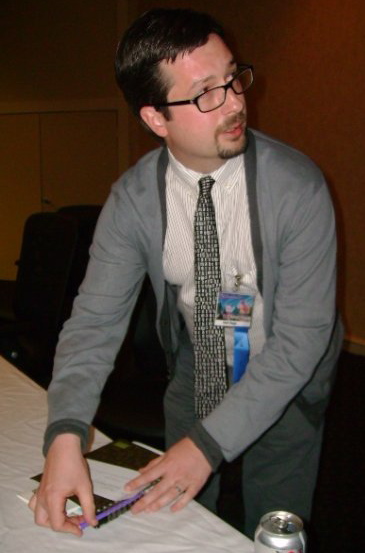 Matt Staggs is a literary publicist and the proprietor of Deep Eight LLC, a boutique publicity agency utilizing the best publicity practices from the worlds of traditional media and evolving social technologies. He has worked in the fields of public relations and journalism for almost a decade. In addition to his work as a publicist, Matt is a book reviewer and writer whose work appears in both print and web publications.