In an essay for the New York Times, author Stephen Elliot wrote about his decision to eschew the traditional book tour model in favor of scheduling readings in the private homes of his fans. Elliot went where he was invited, reading in living rooms across the United States and depending on his hosts for overnight lodging. Overall, Elliot managed to sell over a thousand books on his tour and generate significant publicity along the way.
Elliot is an established author with seven published books and the founder of the popular culture and literary website The Rumpus. While Elliot's D.I.Y. book tour seems to have been a resounding success, would such a strategy work for other, less successful writers?
Lauren Cerand, an independent public relations representative and consultant in New York, thinks that lesser-known authors could definitely benefit from such an approach.
"Absolutely," said Cerand. "Technology may have created new opportunities for authors who previously would not have been a high priority for their publishers in terms of promotion, but it has also made it more imperative than ever to know –– and reach –– your readers."
Rusty Shelton of Phenix & Phenix Publicity liked Elliot's approach, but feels that a book tour isn't always the right way to go.
"I love the creativity behind Stephen Elliott's book tour but I'm not sure I'd suggest it for every author. Book tours are really on the way out and we're finding that the only way to make them work is to go after nontraditional venues – with nontraditional events," said Shelton. "In other words, as Elliott notes in his piece, most bookstore signings (outside of an author's local market or a market where they have a strong network) for authors that aren't extremely famous are sparsely attended and a bit depressing."
However, Shelton did say that efforts like these can result in a lot of publicity. This could potentially pay off in the long run by reaching more readers.
"Few publishers are shelling out for travel expenses on book tours anymore – frankly, I'm surprised Elliott's publisher was willing to pay for travel, especially when most of the sales are wholesale as opposed to trackable retail sales. When you look at overall sales vs. expenses, I doubt the tour paid for itself. That said, Elliott made the most of out his tour with promotion. This NYT piece is huge for him and assuming his publicist went after local media in each market he visited, he likely received PR for his book he wouldn't have snagged without a local tie-in."
Cerand said that book tours and other public events should be coordinated with retailers in order to maximize effectiveness.  "I would recommend hooking up with a local bookseller or chain branch to make sure your sales register, and to expand the buzz."
CONTINUED
According to Cerand, we may see more demand for this sort of direct writer-reader contact in the future, and writers should plan accordingly.
"People are definitely looking for a richer quality of connection as the novelty of the internet has worn off, and its better aspects have replaced outmoded systems. Writers should think of their communications strategy as a long-term investment in relationships."
Shelton said that book publicists will also see their roles changing in coming years as online media, and its capacity for connecting writers to readers and other stakeholders, comes into its own.
"I think we'll see a continued shift in roles for publicists toward digital strategists. Right now the best publicists not only have traditional media relationships (which are more valuable than ever before) but they also have the ability to create social media strategies that not only allow authors to connect with readers–but also raise their visibility with traditional media that is now using Google/Twitter/Facebook more than ever to find sources," said Shelton. "Good publicists have to do both or their clients are missing out. We take as much pride in a booking that resulted from a producer finding our client online after a Google search (because we worked with them on SEO and their social media strategy) as we do in a traditional booking. If you have a publicist that does one but not the other, you're missing opportunities that you should be taking advantage of. Publicists really have to have a foot in both worlds."
So what can writers take away from this?
Book tours can be an expensive investment, both in terms of time and money, and they aren't absolutely necessary for every writer. Before planning a book tour, writers should seriously consider whether the potential return (possible publicity, possible book sales) is worth the expenditure.
There are options to the traditional book tour, and Ellis used one of them. Another option, suggested by Shelton, is a "virtual book tour" where authors do live Skype meetings with reading groups and book clubs. This sort of approach is within the grasp of most writers.
Regardless of what approach you use, both Cerand and Shelton agree that coordinating your efforts with both local booksellers and media in advance of your tour is an absolutely essential step to take if you want to maximize both sales and publicity. Coordinating with a publicist, especially one familiar with both internet-based strategies and traditional media, may be the best way to do this.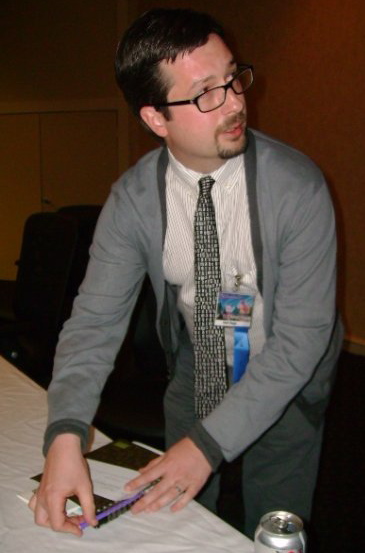 Matt Staggs is a literary publicist and the proprietor of Deep Eight LLC, a boutique publicity agency utilizing the best publicity practices from the worlds of traditional media and evolving social technologies. He has worked in the fields of public relations and journalism for almost a decade. In addition to his work as a publicist, Matt is a book reviewer and writer whose work appears in both print and web publications.